The Real-World Performance of In Vitro Diagnostics
Advancing opportunities in real-world data and real-world evidence is critical to address the evolving health needs created by the COVID-19 pandemic. To further that work, the FDA Foundation is pleased to embark on an exciting program to evaluate the Real-World Performance of In Vitro Diagnostics (PIVD). 
Earlier this month, the Foundation announced the first awardees for the Real-World PIVD program: (1) Beth Israel Deaconess Medical Center (BIDMC) will receive $898,045 to study the real-world performance of over-the-counter (OTC) antigen and quantitative molecular COVID-19 tests compared to qualitative molecular standards; (2) IDx20 with The Chelsea Project will receive $893,500 to study the performance of COVID-19 OTC antigen compared to molecular standards. Both projects will leverage real-world data to generate evidence.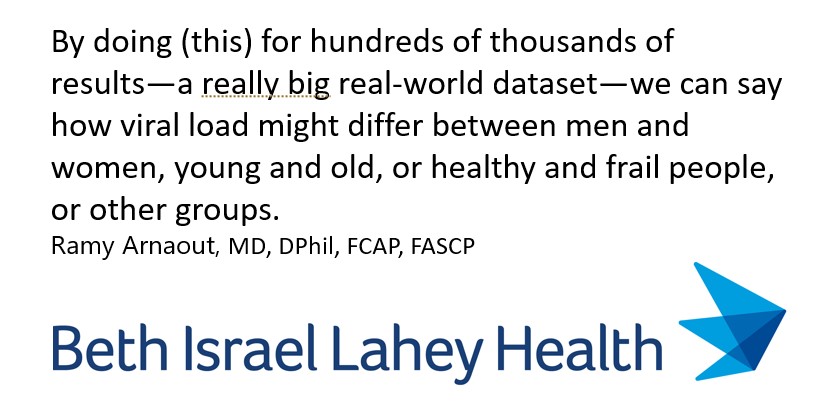 In addition to assessing performance, BIDMC's project aims to better identify those individuals infected, and infectious, with SARS CoV-2 as well as determine how viral loads may or may not vary across real-world patient populations. "COVID-19 tests usually come back as 'positive' or 'negative,' but our team has figured out how to go beyond that, to tell how much virus you have," remarked Ramy Arnaout, MD, DPhil, FCAP, FASCP, the principal investigator for the project. "By doing (this) for hundreds of thousands of results—a really big real-world dataset—we can say how viral load might differ between men and women, young and old, or healthy and frail people, or other groups."
The IDx20 project will compare the performance of COVID-19 OTC antigen tests in clinical settings versus real-world data collection, focusing on underserved and primarily Latino populations. IDx20 will be collaborating with The Chelsea Project, a coalition which includes the Chelsea Housing Authority, Chelsea Public Health and the Center of Complex Interventions. "By working directly with disadvantaged communities, we will obtain valuable information about the use and deployment of pandemic mitigation tools in real world settings.  We aim to adopt such real-world data to better respond and adapt to the continued challen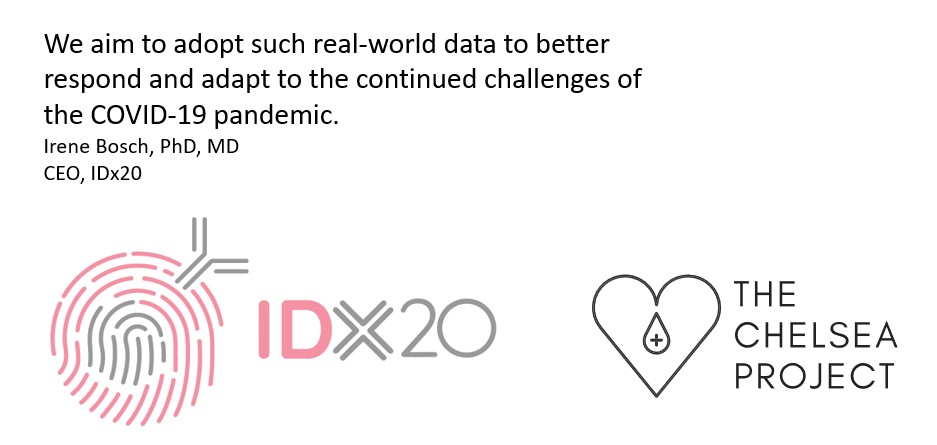 ges of the COVID-19 pandemic, "explained Irene Bosch, PhD, MD, the Chief Executive Officer for IDx20. "We plan to provide analytic data for rapidly validating COVID-19 antigen tests, which may enable a faster FDA approval process."
The increasing availability of tests combined with a rapidly evolving pandemic environment has created a critical demand for assessing real-world performance using timely, complete, and high-quality datasets. This includes the need for innovative approaches to accurately capture and transmit user-read results and to validate semi/quantitative assessments of viral load. 
Currently, the collection and transmission of testing data remains a challenge that limits the ability to assess real-world performance of diagnostic tests. This is particularly true for non-lab-based tests, which are often not designed to capture and transmit diagnostic, demographic, or clinical data. 
Optimal use of RWD/RWE in research and regulatory science will enable all stakeholders to improve the use, interpretation, and performance of diagnostic tests – a process that ultimately improves the medical products available to patients and enables critical public health decision-making. It is expected that results from these projects will expedite advances in knowledge regarding IVD performance, including strengths and limitation for use in different settings or subpopulations; and will inform a more rapid regulatory review process relative to current pre- and post-market data approaches. 
The FDA Foundation will continue to work with the awardees in the management of their research, meeting regularly with key scientific personnel and providing guidance as needed. In addition, awardees, along with FDA Foundation and staff with the FDA's Center for Devices and Radiological Health, are expected to share regular updates to participants of the COVID-19 Evidence Accelerator.  
The Real-World PIVD award program, managed by the FDA Foundation, is supported by the U.S. Food and Drug Administration of the U.S. Department of Health and Human Services as part of an award of $2,070,437 in federal funds (100% of the project). The contents are those of the author(s) and do not necessarily represent the official views of, nor an endorsement, by FDA, HHS, or the U.S. Government. For more information, please visit www.fda.gov.