Real world data (RWD) can help advance our nation's ability to respond to the COVID-19 global pandemic by significantly informing and safely speeding diagnostic and therapeutic processes. At FDA's request, the Reagan-Udall Foundation for the FDA (the Foundation), in collaboration with Friends of Cancer Research (Friends), launched the COVID-19 Evidence Accelerator. The model for the Evidence Accelerator's groundbreaking work is built on each organization's strengths: the Foundation's post-market safety surveillance through its Innovation in Medical Evidence Development and Surveillance (IMEDS) public-private partnership and Friends' pioneering use of "parallel analysis" to explore how real-world endpoints can rapidly address clinically relevant questions about treatment effectiveness.
Urgency and Action: Since the beginning of the pandemic, data scientists around the country have engaged in an intense effort to capture real-world data and rapidly deploy data analytics to help answer key questions related to the management of COVID-19 patients. While these individual efforts are developing into valuable insights, by banding together we are collectively accelerating and maximizing the utility of this information. To do this effectively, a core set of common data elements have been developed that allow any willing data collection effort to embed these data elements into their on-going work in a uniform way to allow for rapid aggregation and analysis.
An overview of the COVID-19 Evidence Accelerator was presented at the Spring 2021 FDA Science Forum. Please view the poster below. For more information, please visit FDA's website.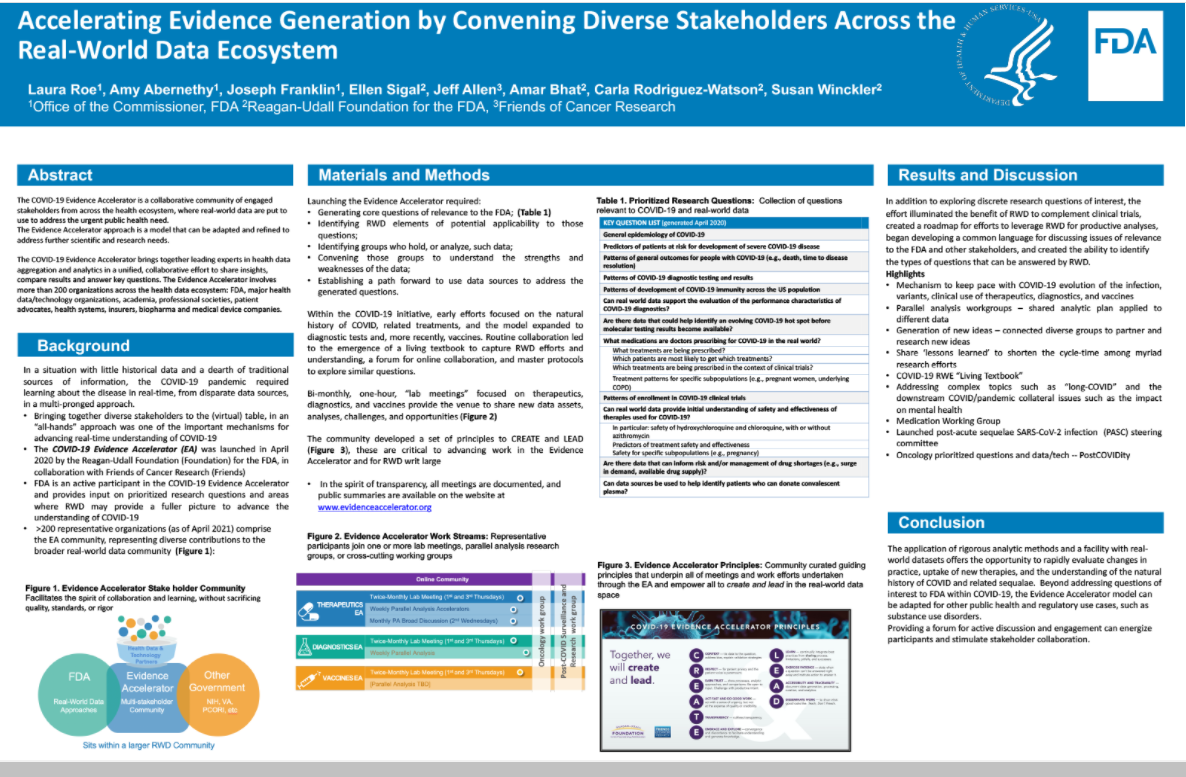 Download poster